Winter prices "Hotel Borest"
Prices

2022/2023

HALF BOARD

01.12-23.12

HALF BOARD

24.12-07.01

HALF BOARD
08.01-20.01
11.03-17.04
HALF BOARD
21.01-27.01
18.03-10.04
HALF BOARD

28.01-10.03

Superior room for 3-4 pers.
 € 106,00
€ 138,00/€ 143,00
€ 98,00
€ 106,00
€ 112,00
Double/twin room
€ 106,00
€ 143,oo
€ 98,00
€ 106,00
€ 112,00
Single room
€ 118,00
€ 154,00
€ 112,00
€ 118,00
€ 125,00
De Luxe room
€ 112,00
€ 148,00
€ 105,00
€ 112,00
€ 122,00
NEW YEAR: For stays less than 10 nights, we charge a supplement.
General conditions:

Prices are to be intended per person and day, with half board treatment (rich breakfast buffet and a 3-course dinner) and a minimum stay of 7 nights. Drinks will be charged extra on your bill.
For stays under 7 nights we will charge a supplement.
Reduction*:
up to 2 years of age: -50%
between 3 and 7 years: -20%
between 8 and 10 years of age: -10%
*Children's reductions only in the room with two full paid people, and for a minimum stay of 7 nights. We don't do reductions in the following periods: from December 24th 2022 till January 07th 2023 and from January 28th 2023 till March 10th 2023 (except other agreement with the management).  
No deductions will be applied for non-taken meals.
>>> Settlement fee:
Tourist tax * Euro 1,90 per person and overnight stay is excluded, excluding children under 14 years
All of our rooms: dispose of bathroom with shower, balcony (with exception of the single room), Sat-TV and safe.
At the Hotel: Bar, restaurant open also at midday, WI FI and ski depot.
Covered garage: Euro 12,00 per day (reservation is recommended).
Pets: we accept pets (max 1 pet per room) at price from Euro 10,00 to Euro 15,00 per day per pet. Please mention your pet when booking, animals are not allowed to enter the Restaurant.
Valuables: It is possible to leave your valuables at the reception where you will get a receipt for them. All of the rooms dispose of a safe, with exception of the standard rooms. The Hotel is not responsible for unattended valuables.
CONDITIONS:
The booking can be considered as definitive on the receipt of a requested deposit . The deposit can be made by non transferable cheque, postal order to send to: Hotel Borest, Via Pecei 52, I-39030 Colfosco – Corvara in Badia (BZ) or through bank transfer at:
CASSA RURALE DELLA VAL BADIA fil. di Colfosco
IBAN: IT 03 C 08010 58341 000301015222
SWIFT CODE: RZSBIT21108.
For late arrival, early departure or no show clients, we charge the total amount of the stay, (see cancellation police). In case of cancellation, and as mentioned in the Italian civil code, art. 1385 and in the sense of the consumer protection Codex (art. 59), the deposit will not be refunded.
Cancellation conditions:
The deposit will be not refunded from the time of booking
3 months to 1 month before arrival 50% of the booking value
1 month to 14 days before arrival 70% of the booking value
14 days before departure 100% of the booking value
These conditions are independent of whether the cancelled rooms will be completely or partially resold again.
That's why we advise you to take out Hotel cancellation Plus insurance when booking so that the cancellation fees are covered in the event of cancellation. Communication according to Part III, Title III, Section I, of the Italian consumer Protection code (GvD 206(2005).
Payment:
By cash, cheque, traveller cheque, Visa/Mastercard, bank transfer before arrival.
Check in – check out:
On arrival day, the room will be at your disposal from 2:00 p.m.! At the departure day, we kindly ask to leave the room within 10:00 a.m..
Offers Winter 2022-23:
Dolomiti Super Première
Ski Start offer, 4 at the price of 3
Season start – 24.12.2022
At the beginning of the ski season you get one ski day free.
This are your benefits:
Accommodation: 4 nights at the price of 3, 8 nights at te price of 6.
Skipass: 4 nights at the price of 3, 8 nights at the price of 6
Ski schools and ski/snowboard rentals: equipment at special prices.
Terms:
Last possible day of ski pass validity: 24.12.2022
Last possible overnight stay: 23.12.2022
To obtain the free ski day and the special prices please ask for the voucher directly at your accommodation.
Dolomiti Spring days
 Ski, sun, spring with sensational prices!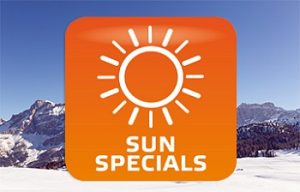 From March 18th 2023 to March 24th 2023 included you get one ski day free if you stay the 7 nights.
This are your benefits
* Accommodation: 7 overnights at the price of 6.
* Skipass: 6 days skipass at the price of 5.
Terms
First possible overnight stay = Saturday, 18.03.2023
First possible ski day = Sunday, 19.03.2023
To obtain the free ski day please ask for the voucher at the hotel.
From 25.03.2023 to the end of the season *: 4 days of ski holidays for the price of 3.
Skiing in the spring sun with a minimum of 4 nights 1 is free: ski pass and accommodation!
For those who stay 8 nights, 2 nights are free.
The ski school and ski equipment rentals also offer special prices.
To obtain the free ski day please ask for the voucher at the hotel.
The offer is not valid in combination with OTHER PROMOTIONS.